Carpet for Your Lifestyle
Are you looking to upgrade the worn-out carpeting in your master bedroom or start renovations in your living room? Look no further for quality carpet flooring than Ed's Flooring America in Hooksett, NH. Our expert flooring specialists service Hooksett, Manchester, and the surrounding areas with our extensive collection of luxurious carpet styles to match your home's needs.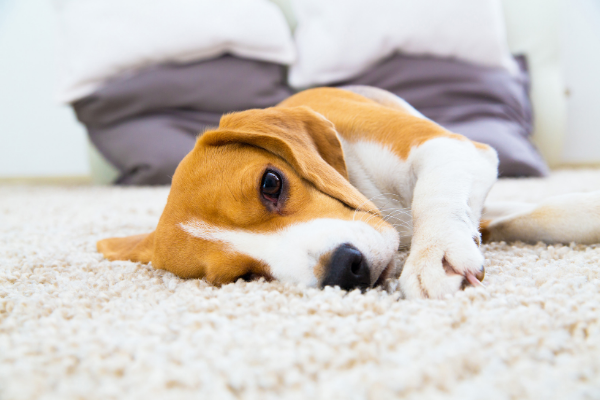 Our Carpet Specialists
Choosing the right carpeting shouldn't be a difficult task, and with the help of our flooring specialists in our large showroom, finding the right carpet for you should be a cinch. Our knowledgeable experts will guide you through Flooring America's inventory of premier carpeting and can offer personalized samples to match your taste.
Rely on us to help you narrow down your search so you can receive the ideal type of flooring to fit your needs in looks, performance, and price. Whether you are searching for durable, plush, stain-resistant, or waterproof carpeting, our goal is to ensure you receive the personalized attention and suggestions you need to be confident in your new floor investment.
Quality Installations
Here at Ed's Flooring America, you can rest assured that our experienced and skilled installers will take care of you and will work to install a beautiful new floor for your home. Our affordable prices can help you save money in the long run and avoid the hassle of fixing an amateur's mistakes. Not only are our installations affordable, but we can also have your new carpet installed quickly so that you can begin to enjoy your new floors.
We understand that the industry-grade equipment and skill level required for a new carpet installation makes it a daunting task for the average homeowner. A simple mistake can end up causing lifting, ripples, and other issues that turn into visual blunders. Not only that, but these mistakes can end up voiding warranties and costing more than if you had called a professional to do it in the first place.
Carpet installation has never been more affordable than it is with our company. We offer unheard-of low rates that make for an overall convenient, affordable, and pleasant experience. Your carpet installation is sure to be flawless because our certified technicians possess and use the most modern equipment available to ensure the best fit.
Selecting the Right Carpet
One of the best things about carpeting is that it's aesthetically versatile and always comfortable underfoot. At Ed's Flooring America, we have a variety of top carpet brands that carry an extensive collection of carpet colors and patterns for you to choose from. Our team of experts will be sure to assist you in finding carpets that will complement your home's design, heirlooms, and furniture. Picking out the carpet that's right for you and your family is an important task, and our professionals at Ed's Flooring America are more than up for the challenge. Whether you're looking for a timeless classic carpet or a soft stain-resistant carpet, we have the right type of flooring for you that will match your aesthetic and still keep you on budget.
Thanks to our ability to offer customers choices from our impressive flooring collections in an unlimited variety of colors and textures from leading industry brands, we have made a name for ourselves in Southern NH. We'll be sure to explain the different types of flooring fibers and which ones are right for your home. If you are searching for a luxurious surface that enhances the look of your home, check out our selection of wool and Saxony fibers that add a rich appeal to every room. For a more casual carpet option, try our assortment of nylon or polyester fibers that provide the strength and stain-fighting protection essential for any busy household. Speak with one of our consultants today to learn more about the following collections in our store:
Frieze
Frieze carpeting is incredibly soft and comes in a cut-pile carpeting construction. The resilient curling fibers of frieze work well to camouflage dirt.
Saxony
A cut-piled carpet, Saxony carpets can add a bit of luxury to any room in your house. Textured Saxony-style carpet also adds resistance to wear, shading, and traffic patterns.
Shag
Shag carpeting features a long yarn with individual strands that come in three types: either long, short, or mini shag. For an informal look, go with shag in medium and light traffic areas.
Berber
Berber carpet has a unique style and a cushiony feeling underfoot that can be found in various pile heights and can be constructed as a level-loop or multi-loop carpet, depending on your preference. Berber's natural strength and soil hiding capabilities make it a go-to floor for active areas in the home.
Contact us today to get started with the carpet upgrade of your dreams! We proudly serve customers in Hooksett, Manchester, Concord, New Hampshire, and surrounding areas.