The Versatility of Ceramic Tile in Hooksett, NH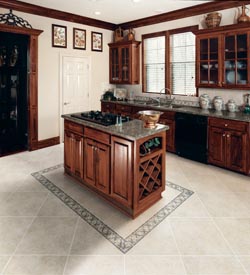 The natural beauty, durability, and versatility of ceramic tile in Hooksett makes it ideal for many areas in the home. Ceramic is ideal to floor any room of your house, as well as cover surfaces like countertops, shower walls, and much more. To explore a brand-name selection of tile, step into the showroom at Ed's Flooring America.
We utilize the impressive buying power of the Flooring America franchise to deliver products from the industry's leading manufacturers at reasonable prices. This allows homeowners to expand their budgets and invest in more flooring than they originally planned, or even upgrade to a different tile solution.
The Many & Varied Benefits of Ceramic Tile Flooring
Tile is known for its ability to hold up well and stay attractive for many years. Whether you are concerned about frequent spills, occasional drops, or high levels of activity, any of the ceramic products from our inventory are long-lasting. Our ceramic tile flooring offers busy households the following practical and aesthetic benefits:
Easy to Maintain & Even Easier to Clean
Moisture Resistance for Wet Areas
Family-Friendly Resistance to Impacts & Scratches
Natural Durability against Chemical & Biological Agents
Availability in Different Shapes, Shades, Sizes, & Textures
Reasons to Choose Professional Ceramic Tile Installation
It's safe to say the average homeowner is not a flooring expert. If you don't have the necessary knowledge, experience, or tools to install tile, we suggest you choose our professional installers. Too often, poor ceramic tile flooring installation results in common problems, such as loose tiles, uneven grout lines, and faulty sealants. Equipping yourself with the necessary installation materials this project requires can even prove more costly than adding professional installation fees to your overall tile purchase.
To ensure your new flooring is able to withstand the activity of your daily lifestyle, depend on our team for the professional ceramic tile installation you desire. Our team includes a number of experienced technicians that complete comprehensive installations with both speed and skill. When you trust our technicians, you can be sure your new flooring surface will satisfy in all respects.
Because we want you to be happy with our products and services, we provide our customers with the strongest guarantees in the business. Our store and staff stand behind our word. We hope this makes you feel confident about shopping with us for all of your flooring needs.

Contact us today with your questions about ceramic tile flooring. We proudly serve the communities of Hooksett, Manchester, Goffstown, Bow, and Bedford, New Hampshire, as well as the surrounding areas.