Hardwood Flooring in Hooksett, NH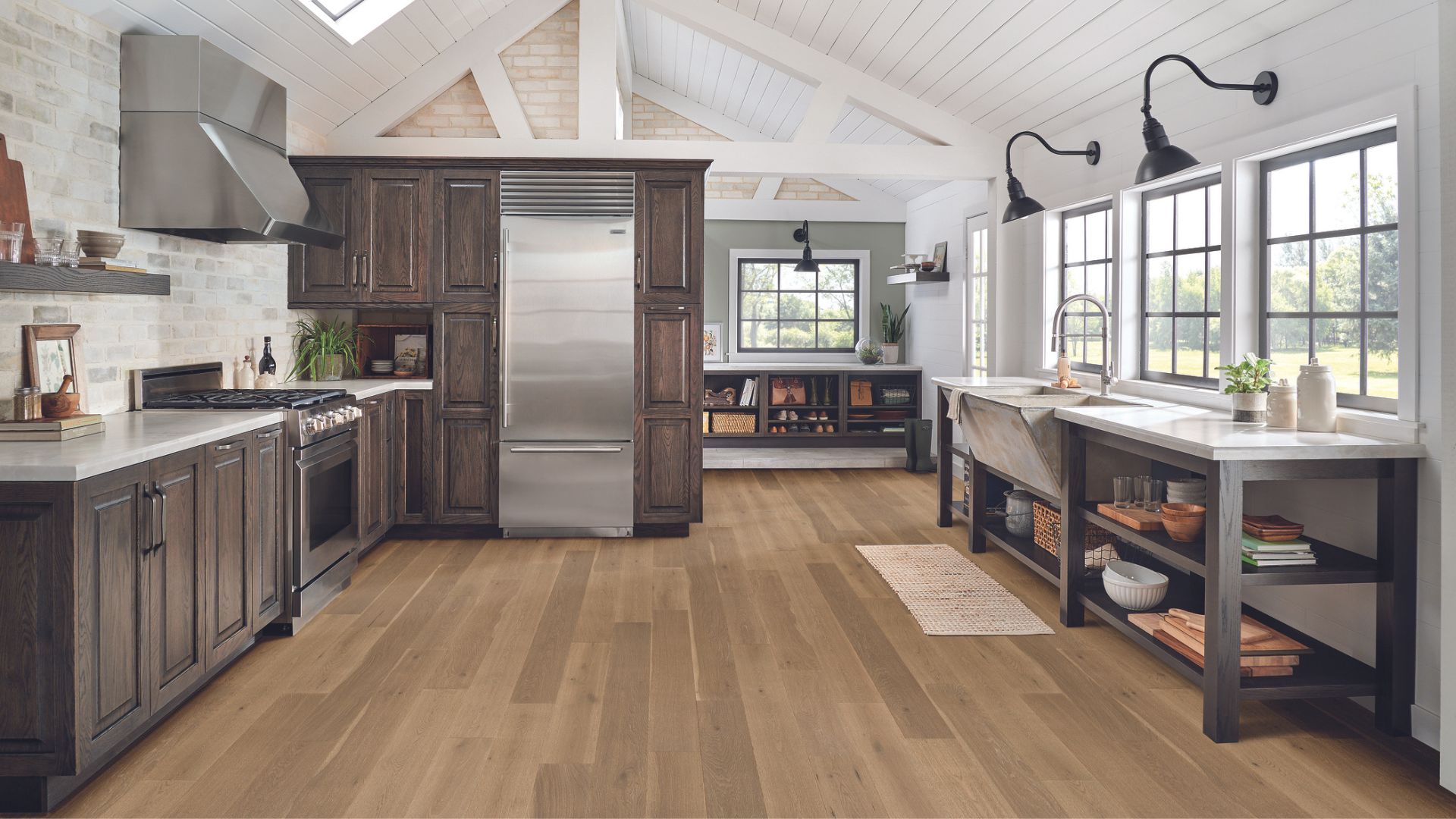 Elevate your Hooksett, NH, home with the timeless beauty of hardwood flooring. At Ed's Flooring America, we offer a wide range of solid and engineered hardwood options that exude charm and sophistication. Our expert team, nestled in the heart of Hooksett, NH, is ready to assist you in discovering the perfect hardwood floor for your living space.
Thanks to our nationwide network of 500 stores, we have access to one of the largest inventories of flooring in the greater Manchester area. We collaborate with renowned manufacturers, ensuring our hardwood flooring is visually stunning and built to last with integrity and durable materials. Let us be your trusted partner in transforming your home's aesthetic. Experience the allure of hardwood flooring with Ed's Flooring America.
Our Hardwood Flooring Selection
At Ed's Flooring America, we offer two distinct types of hardwood flooring—engineered hardwood and solid hardwood. Understanding their differences can help you make an informed choice that suits your needs and preferences. Here's a quick breakdown:
Engineered Hardwood:
Construction: Composed of multiple layers of wood veneers stacked and glued together in a cross-grain pattern, which enhances stability.
Durability: Resistant to moisture and temperature fluctuations, making it ideal for various environments, including basements and kitchens.
Installation: Can be installed as a floating floor, glued down, or nailed, providing flexibility in placement.
Appearance: Available in various wood species, finishes, and styles to match your aesthetic preferences.
Cost-Effective: Generally more affordable than solid hardwood while maintaining the authentic wood look.
Solid Hardwood:
Construction: Crafted from a single piece of hardwood, offering a timeless and authentic appearance.
Durability: Can be refinished multiple times, allowing for a long lifespan and excellent durability.
Installation: Typically nailed or stapled to a wooden subfloor, best suited for above-grade environments.
Aesthetic Appeal: Offers a genuine, natural wood appearance with rich grains and character.
Investment: While often a higher upfront cost, solid hardwood can add significant value to your home.
Discover the beauty of unique botanical wood species! At Ed's Flooring America, we can custom order these rare hardwood varieties to add a touch of natural elegance to your space. Chat with our flooring experts to learn more.
Choosing the Right Hardwood Type for You:
Environment: Due to its stability, engineered hardwood is ideal for spaces prone to moisture or temperature fluctuations, such as kitchens or basements.
Budget-Friendly: If you're budget-conscious, engineered hardwood provides the beauty of real wood without the premium price, making it an economical choice.
Longevity: For those seeking a long-term investment and the timeless appeal of natural wood, solid hardwood is the way to go. It can be refinished multiple times, ensuring durability and lasting beauty.
Our team at Ed's Flooring America in Hooksett, NH, is here to help you select the perfect hardwood flooring that fits your lifestyle, budget, and design preferences. Whether it's engineered or solid hardwood, we'll guide you toward a flooring solution that transforms your space into a stunning masterpiece. Your satisfaction is our priority.
Why Choose Hardwood Floors?
Hardwood flooring is more than just a surface underfoot; it's an investment that brings many benefits to your home. Here's why hardwood is a choice that stands the test of time:
Classic Beauty: Hardwood floors exude natural warmth and timeless charm. The rich grains and unique character of wood species like oak, maple, and cherry add an unmatched aesthetic appeal to any space.
Durability: Solid hardwood can last for generations. It's highly resistant to wear and tear and can be sanded and refinished multiple times to maintain its original luster.
Variety of Options: Hardwood offers an extensive range of wood species, colors, finishes, and styles to suit diverse tastes and interior designs. You can customize your flooring to match your vision perfectly.
Ease of Maintenance: Keeping hardwood floors clean is a breeze. Regular sweeping and occasional mopping are all required to maintain their beauty.
Improved Indoor Air Quality: Unlike some flooring materials that trap allergens, hardwood doesn't harbor dust mites, pet dander, or pollen. This can contribute to better indoor air quality, making it a healthier choice for your home.
Value Addition: Hardwood flooring enhances the resale value of your home. Potential buyers often consider hardwood a premium feature, making it a smart investment.
Versatility: Whether you have a traditional, contemporary, or eclectic decor style, hardwood flooring complements any interior, making it a versatile choice for homeowners.
Sustainability: Many hardwood flooring options come from sustainable sources, ensuring responsible forestry practices and a minimal environmental impact.
Time-Tested Quality: Choosing hardwood means investing in a material that has been tried and tested for centuries, demonstrating its enduring quality and reliability.
Warmth and Comfort: Hardwood provides a comfortable surface, reducing strain on joints compared to harder flooring materials like tile or stone.
Professional Hardwood Flooring Installation
Once you've selected, schedule an installation date with our sales team. Why hassle with installation when you can enjoy affordable, high-quality service? Our experienced technicians have a wealth of expertise with all our flooring materials. Our flooring solutions come with top-tier warranties, including the Ultimate Confidence Guarantee. If you're unsatisfied with your new floor, simply contact us within 30 days of installation, and we'll replace it with a comparable model at no extra cost. Trust our skilled team to bring your flooring vision to life.
FAQs About Hardwood Flooring
Is hardwood suitable for high-moisture areas like bathrooms or kitchens?
Hardwood is not the best choice for areas with high moisture levels. Engineered, more moisture-resistant hardwood is a better option in such spaces. Proper sealing and maintenance can help protect solid hardwood in moderately humid areas.
How do I maintain and clean hardwood floors?
Regularly sweep or vacuum to remove dirt and dust. Use a damp mop with a recommended hardwood floor cleaner for deeper cleaning. Avoid excessive water, harsh chemicals, or abrasive tools, as they can damage the finish.
Can hardwood be installed over radiant heating systems?
Yes, many hardwood floors can be installed over radiant heating, but choosing the right type and following manufacturer guidelines is essential. Engineered hardwood is often the preferred choice as it handles temperature fluctuations better.



Contact us for one of our friendly wood flooring representatives today to learn more about the great options available. We proudly serve the communities of Hooksett, Manchester, Goffstown, Concord, Bow, Bedford, New Hampshire, and the surrounding areas.