Vinyl Flooring in Hooksett, NH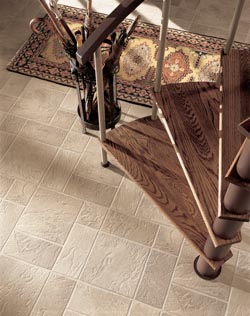 When you make sound investments for your home, you improve its value and enhance your day-to-day comfort. As such, it makes sense to have a floor that can keep up with your active lifestyle while still retaining its beauty and resiliency. Establish a distinct ambience throughout your home with vinyl flooring from our stylish collections. This flooring option combines stunning aesthetic appeal with modern sensibilities. With new styles and improved manufacturing methods, vinyl floors have never been a better choice than it is now.
Our flooring showroom is stocked with options that accommodate budgets of virtually any size. Let us help you transform your space with our flooring products. Stunning designs, durable composition, and endless customizability await your home. We are proud to display and sell vinyl tile flooring, vinyl sheet flooring, and vinyl plank flooring products. The two most popular styles of vinyl now being sold are styles that resemble wood and tile, which stand as a testament to its cost-effectiveness and visual appeal.
Customizable Vinyl Tile Flooring
Give your property a distinct personality with vinyl tile flooring. Popularly referred to as LVT, this option imparts elegance and a timeless look. Tile options are available in a diverse selection of designs and textures, and can even mimic flooring types like marble and hardwood. Furthermore, tile flooring is available in many different shapes and sizes, so you are welcome to create distinct patterns that fit your design preferences. Whether your design goals include establishing Old World majesty or modern charm, luxury vinyl tile adapts to your needs.
If you prefer the look of tile flooring, but cannot afford the investment, consider the addition of LVT. New luxury vinyl tile flooring comes in an array of designs and styles, and is guaranteed to add value to your property. Let us help you refresh your space and make it breathtaking and inviting. Our sales specialists will show you multiple options so you can feel completely confident in your purchasing decision.
Vinyl Sheet Flooring for Busy Households
Your home is a place for your family to spend quality time with one another. Children and pets love the warming texture of vinyl sheet flooring. This option is considered a family-friendly option, as it is durable and scratch-resistant. As such, it can withstand the everyday demands of a busy lifestyle. Vinyl's non-porous surface also means that it can resist spills and staining with ease, which makes cleanup a simple process.
Vinyl Plank Flooring Mimics Hardwood
Establish a sense of majesty and timelessness with vinyl plank flooring. Plank flooring combines the no-nonsense durability of vinyl with the instant visual impact of hardwood floors. Contemporary manufacturing and printing methods allow these floors to successfully simulate the look and texture of popular wood species like cherry, oak, and mahogany. On top of that, vinyl planks are simple to maintain, as they only require a cloth and a compatible cleaning solution to maintain their appearance.
Vinyl plank flooring is manufactured through a series of processes that give it the appearance of hardwood. From the plank cut all the way to the unique grain patterns, it offers artistry and resilience for every room throughout your home. These floors resemble the look of high-end flooring at a much more affordable cost, plus they also feature the following benefits:
A Scratch-Resistant Layer
A Printed Layer That Looks Like Real Wood
Comfort Underfoot from a Core Layer
Ease of Installation
Expensive Look for an Affordable Price
Durability for Families with Pets and Children
Stain and Fade Resistance
Easy Replacement If a Plank Gets Damaged
Easy Care after Vinyl Floor Installation
Having your new floors properly installed is just as important as the quality of the flooring you choose. The experienced technicians on our team will properly install your flooring and also give you proper care instructions for extending the life of your floors. From start to finish, our vinyl flooring installation services ensure you get the most out of your investment.
Our installers will remove your old flooring, install your new floors, and provide you with the best guarantee in the industry. Our store's Ultimate Confidence Guarantee ensures that if there are any problems with your floors or installation, we will solve them at no cost to you. Eligible products also qualify for exchanges. After all, you are investing in your home. You deserve to be completely satisfied with every aspect of your installation.
Work with flooring installers you can trust. In conjunction with our experienced sales representatives, our company helps coordinate and complete your next flooring project. We conduct careful measurements and accurate estimates to ensure the cost-effectiveness of your installation. Additionally, we can also plan the designs you want and cut new vinyl flooring that matches the distinct contours of your home. Our team makes a point to deliver completely customizable service at sensible rates.
Once your new flooring is in place, it will be easy to care for even if you have an active household with pets and children. We recommend vinyl flooring because it is durable, affordable, and scratch-resistant. At our showroom, we make a point to provide nearly limitless variety that matches your lifestyle. Explore your options and completely transform your home's interior.

Contact us today to schedule your free in-home consultation for vinyl flooring. Our flooring showroom is convenient to clients from Hooksett, Manchester, Goffstown, Bow, and Bedford, New Hampshire, as well as the surrounding communities.