Luxury Vinyl Flooring in Hooksett, NH
Are you considering a flooring renovation for your Hooksett, NH home? Are you in search of a stunning yet low-maintenance option to elevate your interior design? Look no further than Ed's Flooring America, where we offer a wide selection of luxury vinyl flooring options. Vinyl flooring has evolved significantly from the traditional sheet vinyl of the past and has become a popular choice for many homeowners seeking durability and style. With a variety of beautiful luxury vinyl flooring selections, exceptional customer service, and professional flooring installations, we are your one-stop shop for a successful renovation. Visit our Hooksett, New Hampshire, showroom today to browse our luxury vinyl products and discuss your project with our friendly flooring specialists!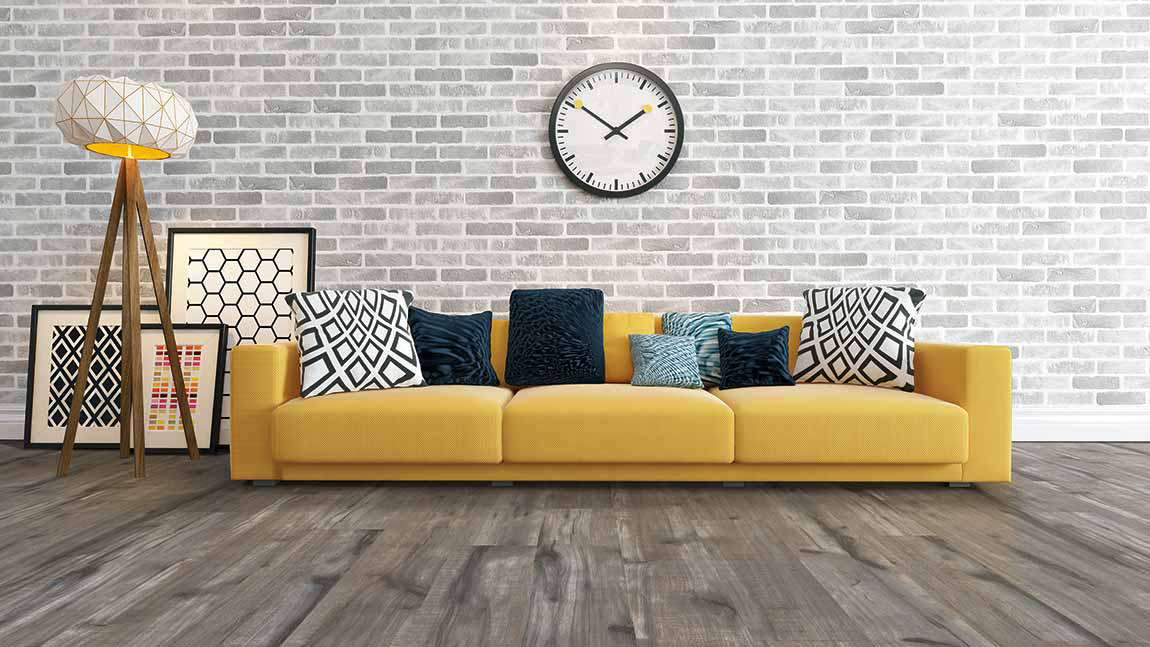 Exploring the Variety of Luxury Vinyl Flooring Types
In today's market, vinyl flooring comes in a range of styles, including wide-plank wood looks and stone-look tiles. At Ed's Flooring America, we pride ourselves on our extensive collection, which spans from rustic textured-grained hardwood to smooth coastal hues. Luxury vinyl flooring, in particular, stands out due to its thicker composition, offering an incredibly realistic appearance compared to natural materials.
Luxury Vinyl Tile (LVT)
Luxury vinyl tile is a fantastic option for adding charm and elegance to any space. Whether you are a residential or commercial property owner, LVT provides numerous options. It replicates the magnificent look of ceramic or porcelain while offering a comfortable alternative that is perfect for high-moisture areas like bathrooms and kitchens. Our LVT is designed to resemble tiles with remarkable depth and textures, fooling even the most discerning visitors. Additionally, LVT is easier to install than true ceramic tile and does not require grouting. While many opt for porcelain, ceramic, or marble looks, we also offer wood-look LVT for those seeking a natural aesthetic.
Luxury Vinyl Plank (LVP)
Among our most popular products, luxury vinyl plank flooring strikes the ideal balance for families who desire the warmth of a hardwood floor coupled with comfort and longevity. LVP offers a softer underfoot feel and can withstand spills, heat, and heavy foot traffic, which can potentially damage natural wood floors. The top layer of LVP boasts advanced photographic technology, resulting in a stunning decorative layer that showcases authentic-looking whirls and grain patterns. Our LVP inventory ranges from rich crimson hues of mahogany to the delicate, soft tones of birch and oak, ensuring you find the perfect match for your style.
Sheet Vinyl Flooring
If you want maximum durability and waterproofing, sheet vinyl is the most sturdy option. Perfect for basements, laundry rooms, bathrooms, and popular among commercial spaces, sheet vinyl is one continuous piece of flooring cut to fit the room.

Discover the Many Benefits of Luxury Vinyl Flooring
Luxury vinyl flooring seamlessly combines the elegance of real wood and stone tiles with modern technology that keeps it looking new for years to come. At Ed's Flooring America, we offer a selection of elite vinyl brands, including Tarcet, Happy Floors, Shaw, Mohawk, and Coretec, ensuring you find the ideal flooring option to suit your lifestyle. Vinyl floors offer Hooksett homeowners many advantages, including the following:
All our luxury vinyl planks and tiles are 100% waterproof, making it possible to install hardwood-look and tile-look floors in any room without the risk of water damage.
From bathrooms and kitchens to basements, you can enjoy the look and feel of real hardwood or stone tile with peace of mind.
Active households with kids and pets can enjoy luxury vinyl's scratch, dent, stain, and water resistance, knowing maintenance is a breeze.
Luxury vinyl's composition offers a resilient feeling underfoot that's quiet to walk on and aid's in absorbing sound.
Unparalleled Ease of Luxury Vinyl Flooring Maintenance
One of the standout advantages of vinyl flooring is its minimal upkeep. Scratch-resistant, stain-resistant, and waterproof, vinyl floors are a breeze to maintain. With advancements in technology, our vinyl floors replicate the look and feel of real wood and stone tiles without the limitations imposed by moisture. Ed's Flooring America offers waterproof vinyl flooring, allowing you to install it in moisture-prone areas like kitchens and laundry rooms worry-free. All it takes to keep your LVP or LVT clean is the following easy flooring care tips:
Vacuum or sweep regularly.
Wipe up spills with a damp cloth.
Clean heavier messes with a mop and vinyl flooring cleaner.
Always consult your warranty or ask a professional before using any harsh chemicals to avoid damaging your flooring's protective finish.
Effortless Luxury Vinyl Flooring Installation
At Ed's Flooring America, we go the extra mile to ensure a seamless installation experience for your vinyl floors. Our professional installers are well-versed in our product lines and the best installation methods. Luxury vinyl's simple click-and-lock installation system allows our professionals to swiftly and precisely install the flooring at a time convenient for you.
With your satisfaction as our top priority, we back each flooring installation with our Ultimate Confidence Guarantee. This promises to fix any installation-related issues in the unlikely event you are dissatisfied—all at our own expense. Trust Ed's Flooring America to get the installation job done right the first time.
Choose Ed's Flooring America for Your Luxury Vinyl Flooring Needs
Ready to transform your Hooksett, NH home with stunning luxury vinyl floors? Contact Ed's Flooring America today. We proudly serve Hooksett, Manchester, and the surrounding New Hampshire areas!